How To Use A Task Tracker To Manage Your Projects Efficiently: 6 Easy Tricks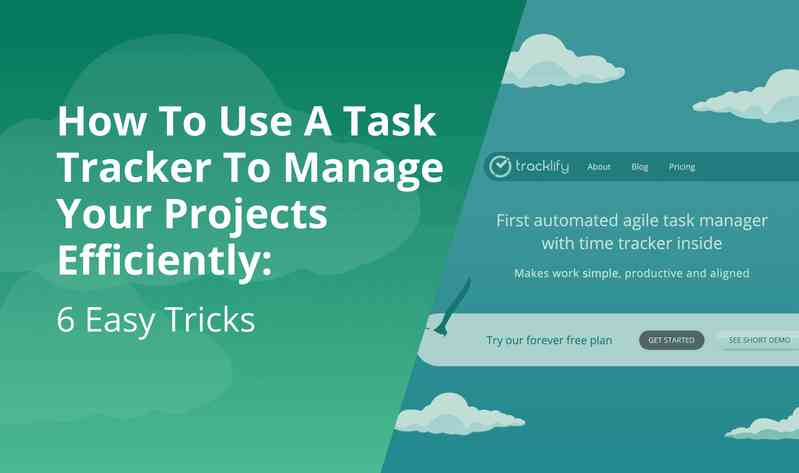 Do you want to boost your productivity at work and in your daily life? Read this article to find out how to manage your deals, projects, and teams more efficiently using a task tracker app.
Today, task management is one of the popular ways to organize and validate team workloads. By following the right strategy and using a multifunctional task tracker, you can easily monitor the work progress, assign tasks to specialists, and set deadlines to ensure efficient and coordinated workflows.
So, let's consider how to use a task tracker at work and what benefits it will bring.
What is a task tracker?
In a nutshell, a task tracker is a special software that helps you plan, manage, and optimize workflows in your company. You can use it for personal needs, for example, for daily planning and for efficient project management.
The job tracker app can be applied to any business line where you need to coordinate tasks. With it, you can easily track work progress and employees' performance and communicate with your executive team.
Based on various research data, the daily task tracker helps improve a person's productivity by almost 75%. In this way, employees become more engaged in the workplace. 
Benefits of using a task tracker app
I mean, who doesn't want to be more productive at work and in their day-to-day life? Task trackers make it possible to boost productivity and be on top of one's goals.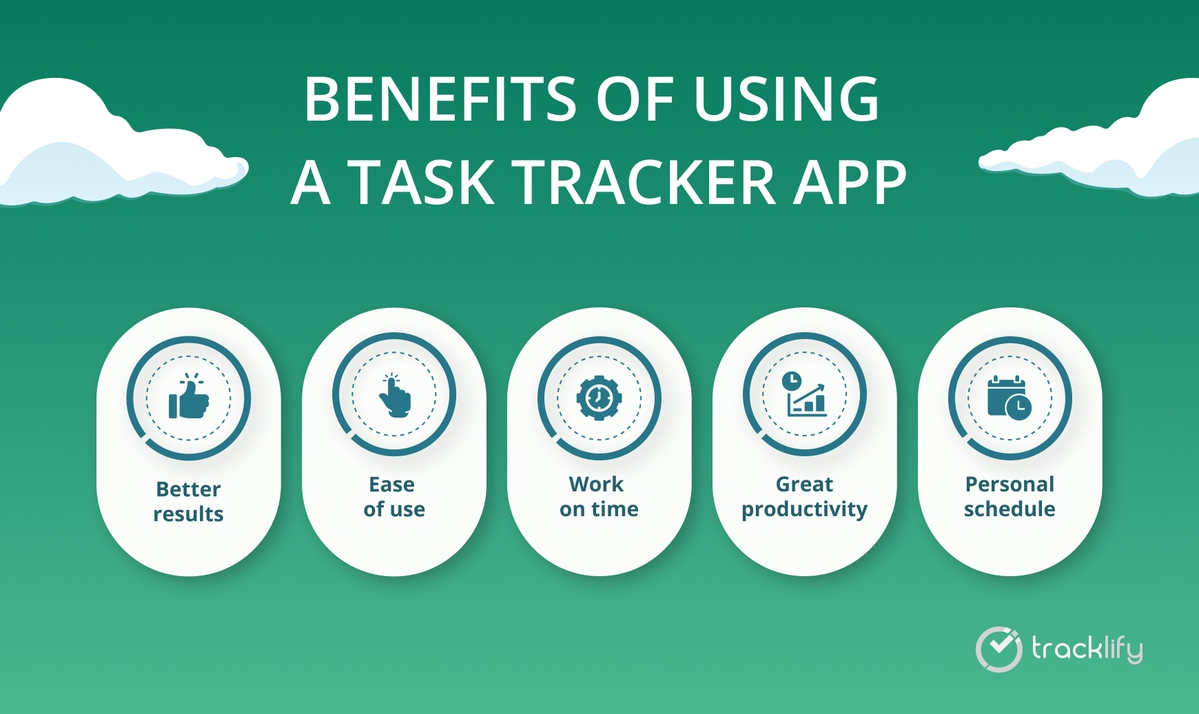 By using the daily task tracker, you will get better results more quickly and efficiently. The app helps you form detailed plans, sticking to which you become more productive.
You can quickly assign projects and tasks to yourself and your team, prioritize and delegate them depending on the skills and experience of each specialist. In addition, the personal task tracker helps you keep track of the hours you have spent on a specific project.
Task trackers allow you to track real-time progress. You can be on top of your schedules and set deadlines to ensure that a team can complete projects on time. 
Using a tracker app, you can quickly understand what's slowing you down and how to avoid it, thereby making you more efficient and productive. Knowing that everything is "in control" can go a long way towards keeping your productive focus.
It will be easier for you to create a personal task schedule. For example, it can include important tasks, such as learning a foreign language, making purchases, etc. You can also categorize the tasks based on their priority.
How to use a task tracker to boost team productivity
Since the projects in your company are divided among your team members, and most likely some of them are in different time zones, it can be challenging to measure the effectiveness and progress of the work. Using the job tracker app, you can get a more transparent process in which each specialist will know what is happening and what his role is in the project. 
So, let's find out how you can make the most out of a task tracker app at work.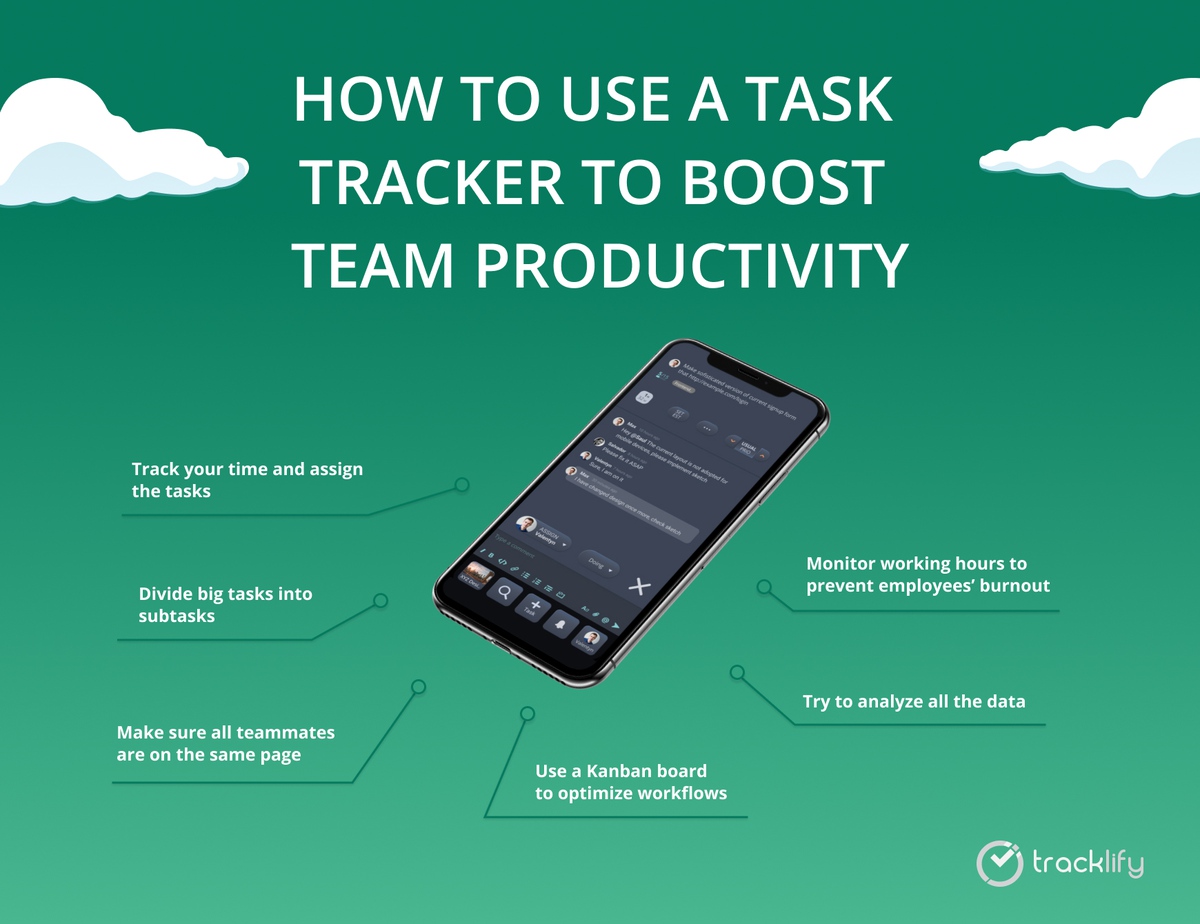 Track your time and assign the tasks
Whichever software you use,task trackers make it easy to assign tasks and monitor their progress.
The task tracker can provide a detailed report on which of your tasks or team's tasks are taking the most time. Of course, it may seem challenging to analyze such information for some, but in fact, it is easier than it looks. 
For example, the Trackify app has a pretty intuitive user interface so that you can spend a minimum of clicks on task management and installation. More importantly, all the priorities will come first, so it will be easier for you to see what to do first and how much time you will spend on it.
In this case, when you work with any daily task tracker, you will understand how much time you spend on different products.
Divide big tasks into subtasks
An enormous task can confuse your team. To make the job easier and get the desired results, they need lighter, less volumetric tasks.
In this case, you can divide large tasks into smaller ones. Thus, you or your specialists will be able to achieve the necessary goals quickly  and feel this pleasant feeling as if you had put the card in the "Ready" state.
Make sure all teammates are on the same page
Regardless of the size of your teams, fruitful collaboration is key to getting things done right. The best way to do this is to keep everyone on the same page to share the files, reviews, ideas, and more.
You can create a shared whiteboard to post vital resources or documents that your specialists may need in the work process. In this case, each person will receive all the necessary data, avoiding constant questions about the project and tasks.
Use a Kanban board to optimize workflows
Use the Kanban board to visualize and manage all processes. The Kanban board is a unique system that will help you organize all the tasks into columns. Each column will have a status and will also display whether the tasks are running or completed.. By using this approach, you can find bottlenecks faster and work more efficiently with your team.
Try to analyze all the data 
A project management tracker will provide you with automatic reports and statistics. It will have  necessary information to measure the key performance indicators (KPI) of employees. By tracking these metrics, you can quickly assess the financial health of your organization. 
Monitor working hours to prevent employees' burnout
Burnout is a common occurrence in companies. Using the task tracker app, you can track your teams' time to ensure they are not overloaded. By monitoring working hours, you're able to reduce the stress level of the employees. This way, they will feel more confident and more productive.
The Proven Way To Boost Your Productivity
Using a task tracker for work, you can monitor all processes in projects, correctly distribute tasks between your specialists and get a transparent system. Each team member will be aware of the time required to achieve a goal. 
If you're in search of multifunctional task management software, get started with Tracklify. We invite you to try our task tracker app with a convenient Kanban board designed to optimize the workflows and achieve goals faster. Sign up right now!