How To Write A Work Plan: Steps To Take, Templates, And Tools To Use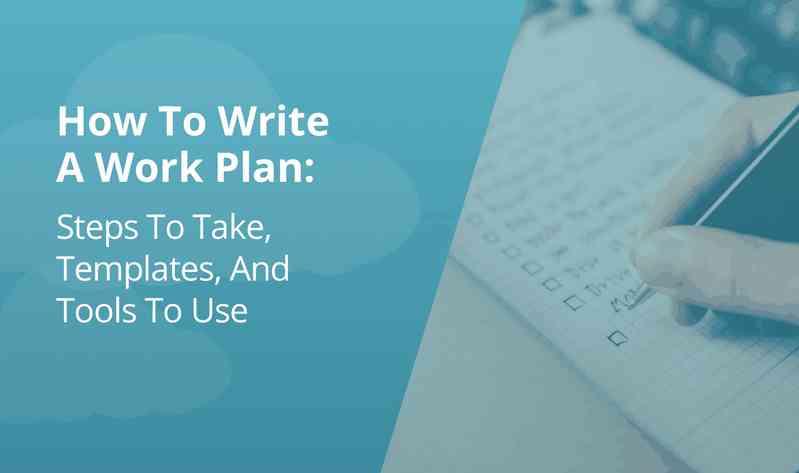 Careful work planning may help avoid stress and ensure all employees are well aware of tasks. We prepared an ultimate guide on how to write a good work plan with valuable tips, tools, and templates.
A goal without a plan is just a wish. Whichever endeavor you take on, it is important to plan to achieve your goals. Careful work planning may help avoid stress and ensure all employees are well aware of tasks and can confidently execute them.
There are many factors to consider when it comes to composing a proper work plan ― goals, strategy, objectives, tactics, responsibilities, etc. To assist you, we prepared an ultimate guide on how to write a work plan with valuable tips, tools, and templates! 
What is a Work Plan?
First, let's cover the basics to understand what the term "a work plan" actually means. While this concept can be applied to personal work, project managers usually use it to coordinate the work of team members. 
When you have a project that requires different people's input working on multiple assignments, a work plan is an indispensable tool that ensures all employees share the same vision and accomplish their targets. 
So, the definition of work planning might look like following:
A work plan is a roadmap for the project, which allows the team to achieve its mission by breaking the goal into smaller steps and processes.
Tips for Efficient Work Planning
Before you get down to composing your work plan, here are a few tips we advise you to follow:
1. Set SMART Goals. Do you feel like you're putting much effort but see no results? Perhaps, you have the wrong goals in place! Setting realistic goals that can be achieved within the indicated deadlines is essential to efficient work planning.
SMART is an acronym that can help you set efficient goals. To ensure your goals are clear and reachable, they should be Specific, Measurable, Achievable, Relevant, and Time-bound. Next time you set targets for your team, try this framework to improve your results.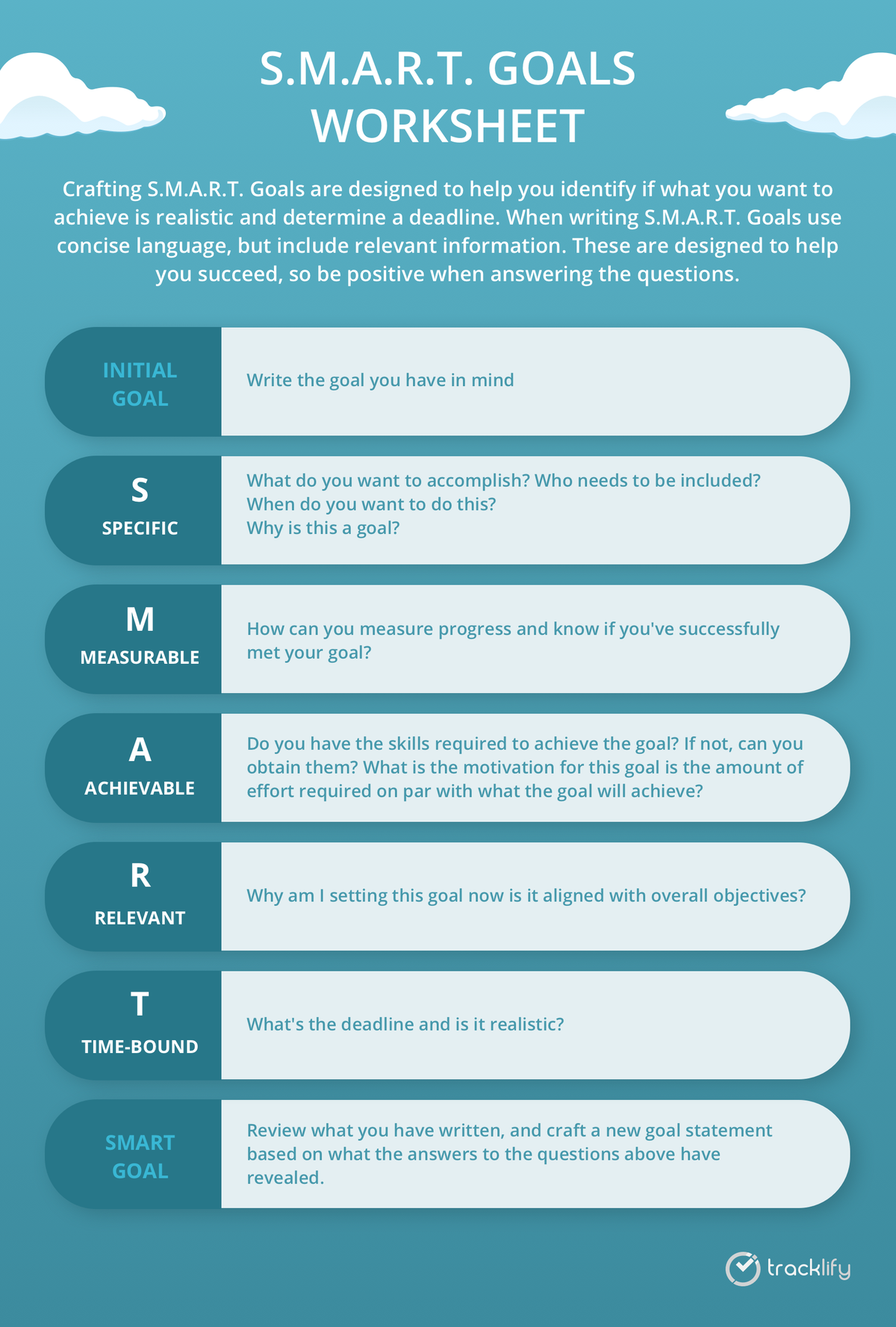 2. Use Effective Project Methodologies. Keeping the project on track is difficult. When you deal with a complex project involving multiple tasks and stakeholders, having a handy methodology is paramount to achieving successful results. 
The Kanban approach is one of the most effective and flexible methodologies applied by companies of all sizes. It helps keep your project on track, check the status and ensure you enjoy organizational transparency. Our Tracklify task manager was created according to the best Kanban principles by experienced project managers who have been working in the Software Delivering industry for years.
3. Prioritize Tasks. Prioritization improves work planning, particularly when there are many tasks to complete in tight deadlines.  There are many ways to do it, so just choose the one that best fits you and your team's needs!
4. Measure Time. Many companies neglect this tip and miss the opportunity to improve their workflow. Time tracking is a useful work planning tool that lets you  see how much time you spend on each task, spot time killers, and improve your   workflow to gain maximum efficiency.
5. Hold Status Meetings. To have your team synchronized, hold status meetings to discuss tasks, challenges, blockers, and achievements your team faces while working.     
6. Ask for Feedback. Regularly ask your team whether they are satisfied with the work planning process and if they have any ideas for improvement. This step will provide you with a helicopter view of the process and ensure you see eye to eye with your employees.
How to Create a Work Plan: A Step by Step Guide
Step 1. Set SMART Goals. When your project is about to start, one of the most vital activities in work planning is to set clear and reachable goals. This step will provide your team with a clear picture of what, when and how they need to accomplish to demonstrate exceptional performance. 
Step 2. Break Goals Into Tasks. Once you have your goals set, it's time to break them into tasks and identify stakeholders involved. Thus, you can estimate the workload and identify the resources required to accomplish the goals you've set. 
Step 3. Set Priorities. The next step is setting priorities. This step is necessary to allow your team members to focus on high-priority tasks at first before moving to the next ones. In such a way, you can ensure employees are consistent in their actions. 
Step 4. Develop a Timeline. How much time do you need to accomplish all the goals? How much time will each task take? Estimate the project and develop a comprehensive timeline, which can be shared with other stakeholders. It's a good idea to track time to ensure you reach your targets by the deadlines. 
Step 5. Add Tasks for the Task Manager. There are countless work planning tools out there that have several instruments to help you achieve optimal performance. Time tracking, helpful notifications, status control, and other features may sufficiently improve your workflow management. 
Step 7. Add Team Members. When you have your working plan done, invite your team members to the board and tell more about their role in the project. If you don't use any task managers, you can share a work plan sample with them and expand on the tasks they need to accomplish. 
Step 8. Launch a Project.  Composing a detailed working plan is just the tip of the iceberg. To make your project successful, you have to keep track of the progress, make regular reports, introduce improvements and keep your team motivated throughout the process. 
To do that, we recommend you conduct meetings at least once a week, engage your team in the problem-solving process and keep track of the project workflow so that nothing would be left unnoticed. 
Examples of Productive Work Plans
To provide you with an idea of how the work can be organized, we compiled a list of successful work plan templates:
Kanban work plan template: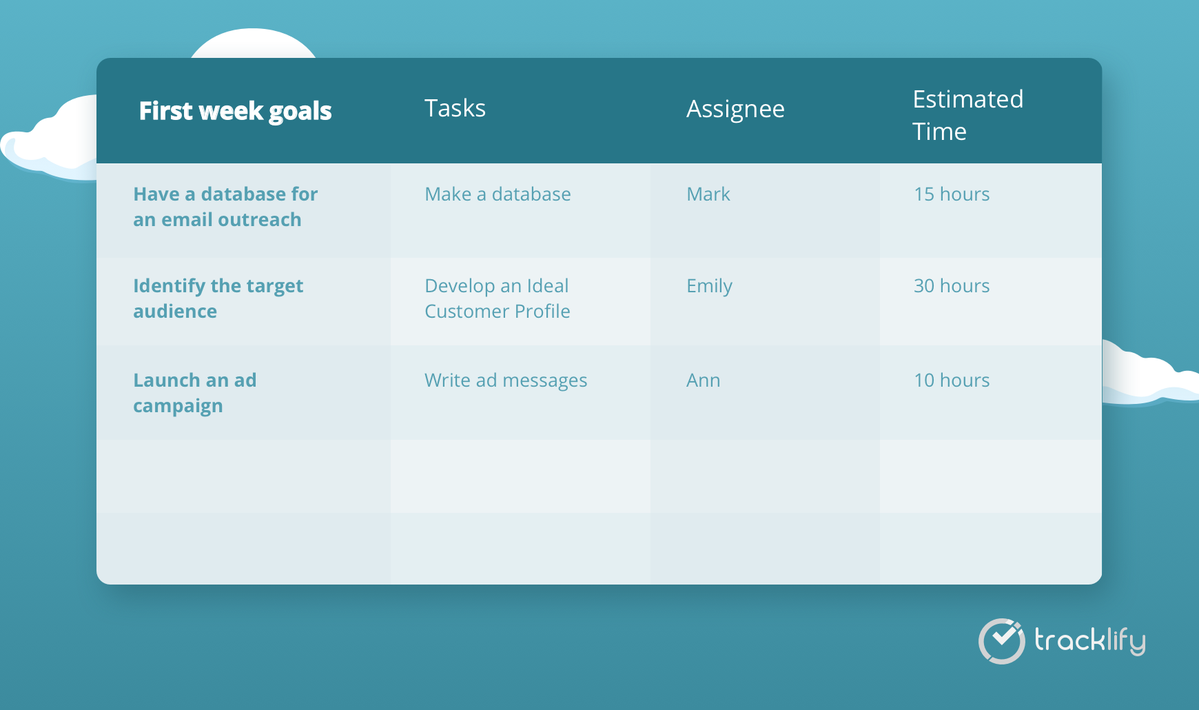 Boost Your Results with Efficient Work Planning
If you've been wondering how to write a good work plan, this article will provide you with a step-by-step guide on creating an efficient working plan for your team. Set clear goals, break them into tasks, identify resources and kick it off! You can also benefit from work planning tools available on the net as they will add more transparency to the process and allow you to track performance. 
Although work planning takes time and effort, it will bring you positive outcomes of successful results and accomplished goals!