Intro to Scrum Meetings: 5 Key Types Of Scrum Ceremonies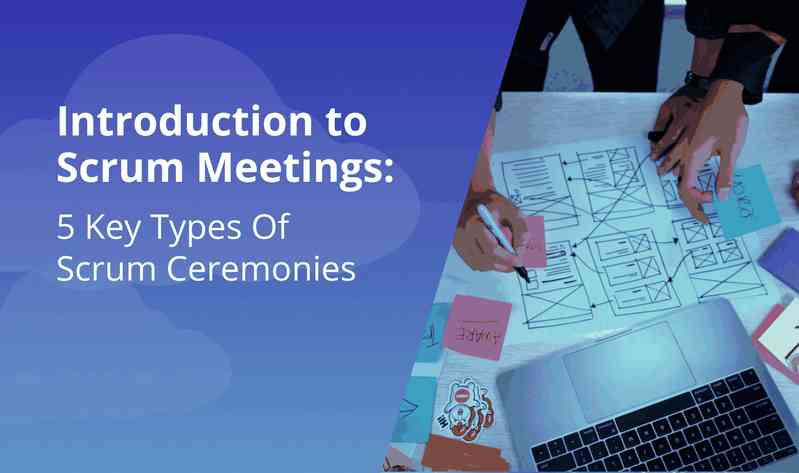 In this article, we'll dive into the different types of scrum ceremonies and explain how they can be used to ensure all employees are on the same wave. We'll also provide some simple yet effective tips on how you can get the most out of your scrum meetings.
If you're looking for an easy yet effective way of keeping your work team actively involved in the project and on track, a Scrum ceremony (more commonly known as a Scrum meeting) will be your best bet. It's an ideal tool which helps get things done. 
In this article, we'll dive into the different types of Scrum ceremonies and explain how they can be used to ensure all employees are on the same wavelength. We'll also provide some simple yet effective tips on how you can get the most out of your Scrum meetings. 
What is a Scrum meeting?
So, what is a Scrum meeting? Think of it as a short meeting that is there to monitor progress and address concerns regarding work. Team members provide feedback on completed work and highlight any concerns they may have regarding future work. These meetings can be lifesavers and can help project managers or Scrum masters get work done with little hassle. 
With the assistance of increments and iterations, a big project is divided into smaller, easier tasks. A meeting in Scrum that utilizes an Agile approach for their work is referred to as Agile Scrum meetings. The main idea remains the same, i.e., to ensure the project is on track by ensuring that team members actively participate in providing their input of the work.
Agile development forms the basis of Scrum ceremonies. Since Scrum is an Agile process, these agile meetings are essential elements of a healthy work environment. Two-week sprint Agile meetings make working more manageable and fun and an active process where every team member can have their say and report on work progress.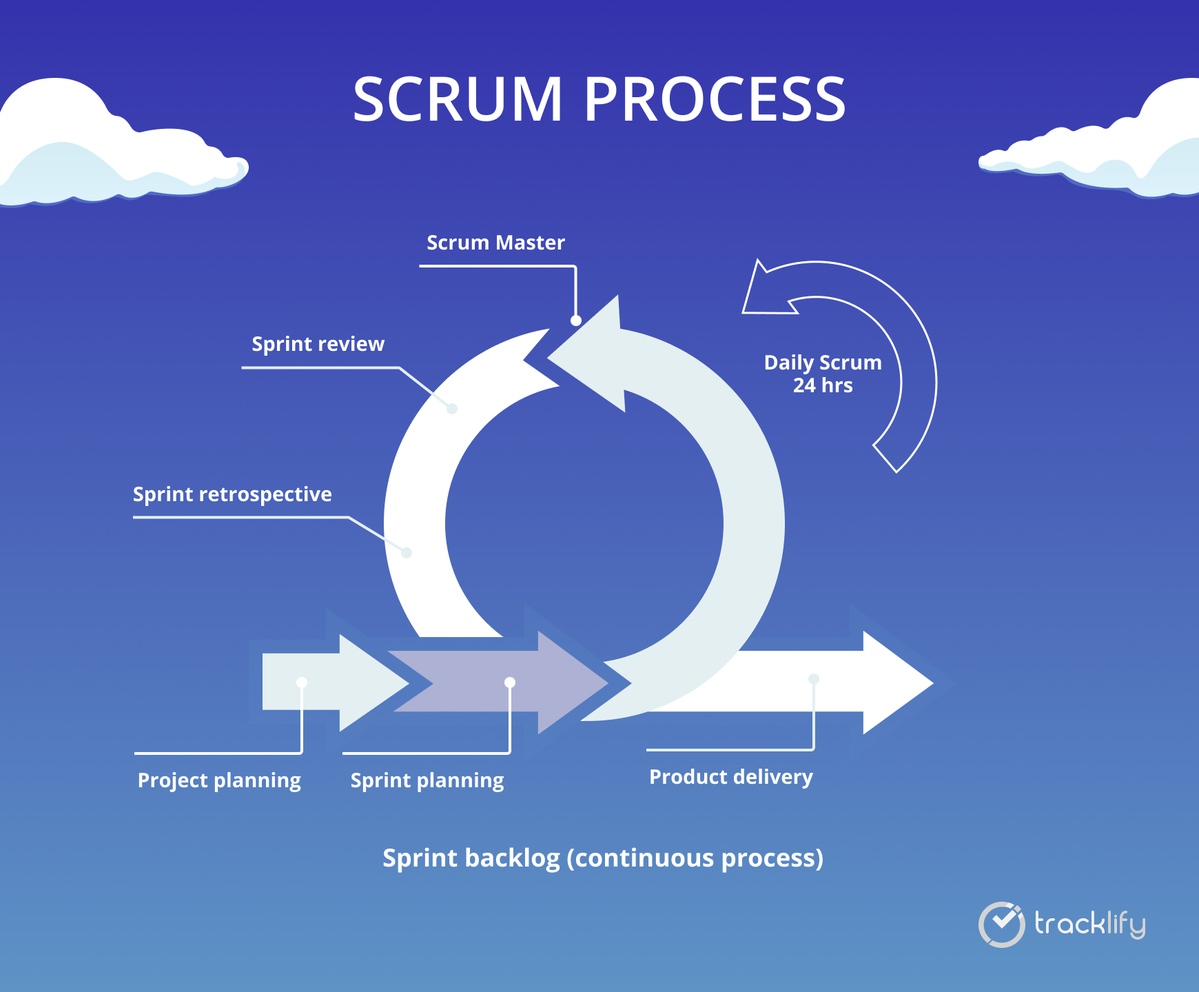 What are the five Scrum meetings?
One of the main concerns teams have regarding an Agile planning process is the presence of too many Scrum meetings. But, they're actually very helpful and different from regular ones. These Agile Scrum meetings boost productivity and prevent future hassles in work.
By understanding these Scrum meeting types, Scrum masters can identify which of these will be best suited for their work development process.
Let's take a look at the five main Scrum meeting types: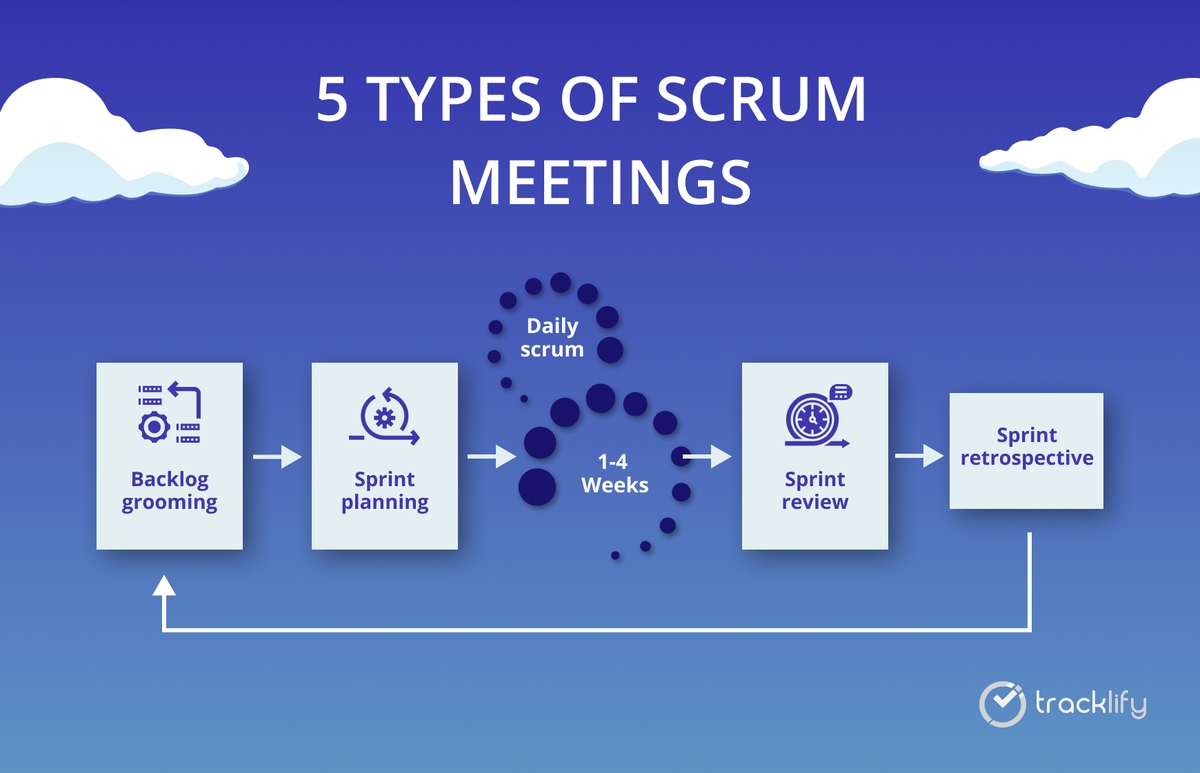 1) Sprint planning
Agile Scrum meetings are divided into sprints. It is important to plan these sprints to ensure that the entire project is well executed. Sprint planning meetings provide a bird's eye view of the scope of work. A team can decide how long the sprints should be. Keeping realistic time-frames is crucial. It also helps to prioritize the tasks. With the help of a sprint backlog, team members are briefed on their work goals and given a timeframe to complete them. This meeting gives the team a good chance to discuss work and any concerns that they may have.
2) Daily Scrum
Daily Scrum is typically a brief meeting that's quarter-hour long. This meeting should be held at the same time every single day.  Keeping this meeting time-boxed ensures that it is to the point. A daily Scrum provides a review of the team's progress and checks whether or not the team is on track with their work. Each team member provides their work status by specifying what they completed a day before, what they are currently working on, and if there are any obstacles or concerns for future work.
3) Sprint review
As the name suggests, a sprint review meeting discusses or reviews a particular sprint. This meeting takes place once a sprint is complete. It inspects the work completed during a sprint, and analyses working usually in the form of a quick demo. The meeting also helps to plan future goals for other sprints. The team can also discuss any changes or concerns that they may have. The sprint product backlog is updated to accommodate information gathered during a sprint review.
4) Sprint retrospective
A sprint retrospective meeting aims to reflect on the Scrum meeting's agenda and discuss what was accomplished and what went wrong during the most recent sprint. The team also discusses concerns that need to be addressed to improve future sprints. Sprint retrospective meetings don't take much time as they are just a quick overview of what happened during a sprint. The team needs to focus more on how improvements can be made rather than worrying about what went wrong.
5) Backlog grooming
Also known as product backlog grooming, this meeting is all about refining the tasks for better execution. Backlog grooming can significantly reduce the time taken for sprint planning meetings. Tasks are discussed in detail and given a priority. The purpose of this meeting is to ensure that the team is well aware of what is expected from them to achieve their work goals. Each individual has the opportunity to understand the backlog items before they agree to work on them.
9 proven tips to hold Scrum meetings more effectively
Short meetings help: Keep the meetings short and sweet. An ideal meeting should last around 15 minutes. Nobody wants to attend a long meeting. Not only do people get distracted, but they also pay less attention and lose interest.

Get everyone to stand: Stand-up meetings keep everyone focused and limit long discussions. Nobody wants to stand around listening and discussing work. When the team is standing, they'll be quick to convey what they need relating to their work so they can sit down and get on with the rest of their day.

Don't discuss problems: Your meetings should be to the point and focused primarily on work. Don't discuss the issues with the whole team and waste time that can otherwise be used more productively. Keep the issues for a separate problem-solving meeting with those they concern.

Ensure the meeting is on target: A simple way of ensuring that everyone is on target with their work is to urge all team members to answer the subsequent three questions: What has been completed/ accomplished? What is being worked on now? What concerns are there for future work?

Ensure team members are ready beforehand: Your team must be aware of their expectations during a meeting. Set a Scrum meeting's agenda and brief your team on what you will be asking them every day. This will ensure meetings can stay short and effective. Reward those who are well prepared to encourage the rest.

Get on with it: You will take away from the purpose of a Scrum meeting if you wait around for everyone. Set a time for the meetings and start them on time. You can penalize those who are late or non-serious later on.

Set rules to avoid time wastage: Specify those who you wish to talk to and when they need to talk. Also, set rules on what is allowed to be discussed during a meeting. This will keep everyone focused and will prevent the meeting from getting off track.

Keep devices on silent mode

: An easy way of ensuring that everyone is focused is to limit the use of mobile phones and laptops. Team members should attend meetings with their phones on silent. This will significantly prevent distractions. An exception is turning on devices for

taking meeting notes

. Employees can use specialized software to organize information, set tasks and make the process generally more efficient. 

Use a software tool to make things easier: Specialized tools can make it easy to hold Scrum meetings. Tracklify, a real-time automated Agile task manager, can help create tasks and keep the teams on track. It makes the process of taking notes and monitoring work not only simple but also effective, taking the load off the Scrum master.
Conclusion
Scrum meetings are a great way of monitoring a project's progress. Dividing a large project into sprints makes the work more manageable for all those involved. Not only do these meetings ensure that team members are actively involved in the project, but they also provide an opportunity for the team to communicate. Any concerns regarding work commitments can be discussed, giving everyone a better chance to accomplish their tasks more effectively.